I love using Ziploc bags to organize soggy sandwiches, dried-out cheese, and messy leftovers for easy storage. Other people will microwave food with these flexible bags. 
The biggest problem with Ziploc bags is that they're single-use plastic, which can pose risk to the planet. Could you be freaking out about the environment? Probably, you want to push for a greener lifestyle. 
Don't worry, you only need to make some easy changes. Look for zero-waste alternatives to Ziploc bags. This article lists the best substitutes for Ziploc bags.
What Can I Replace Ziploc Bags With?
Plastic bags take about 1000+ years to biodegrade. As you may be aware, Ziploc bags are hardly reusable and not recyclable. 
The best thing is to swap for non-toxic, sustainable, and eco-friendly alternatives available in the market. These includes:
Stacher silicone food bag
Beeswax Sandwich bags
LoveForEarth Gallon Zipper Bag
Plant-Based food wraps
Stainless steel sandwich boxes, and
more
We will discuss these eco-friendly alternatives in a more detailed manner. In the end, you'll be able to choose one depending on what you intend to use it for. 
10 Eco Friendly Alternatives to Ziploc Bags
Imagine plastic entering the oceans or improperly disposed of – it will harm aquatic life, harm birds, and lead to an unfavorable environment that you can admire. Show care for the planet by trying these options in place of Ziplocs.
1. Stacher Silicone Food Bag
It's reusable
100% plastic-free bag
Microwave, freezer, and dishwasher-safe
Comes in a wide variety of sizes and colors
My personal favorite! Stacher reusable bags lead the way in Ziploc bag substitutes. Made of platinum silicone, these bags are 100 percent free from chemicals such as BPA or Phthalates.
The silicone material used comes with incredible benefits as it is reusable. Thanks to the fun and functional range that these bags offer to eco-consumers. 
With it, you're free to store food in it, microwave it and freeze it without it getting bad or stale. And most importantly, the bag is dishwasher safe. Just choose the size and color you prefer for your needs.
Where to buy:
Stacher Silicone Food Bag is available in EarthHero. You can also buy from EarthEasy. 
2. Beeswax Sandwich bags
They are breathable
Reusable time and time again
100 percent biodegradable
Highly Compostable 
Plastic-free packaging
Swap your Ziploc bag with this clever eco-earthly Alternative. You'll no longer have those sweaty sandwiches in your kitchen. Well, Beeswax bags, boxes, and wraps are environmentally friendly to the extent that they won't cost the Earth.
The part is that these bags are breathable, which keeps your meal prep fresh for longer. The fact that Beeswax is animal-based material means that you can add it to your compost pile. 
Simply put, it degrades (1 year of regular use) quickly even when disposed of. Have the chance to reuse it 10 times for other purposes. 
Where to buy:
Buy these Beeswax bags from these online stores; EarthHero, Life Without Plastic, or Etsy
3. Plant-Based (Khala) food wraps
Made of all-natural ingredients
Moldable and washable
Compostable after regular use
Reusable 
Wraps break down easily than Ziploc bags
Say goodbye to plastic bags by embracing plant-based food wraps. You may opt to abandon animal-derived products as well for these sustainable bags. 
Just like beeswax, these vegan substitutes don't come with environmental risks. The sandwich wraps are made from resins, plant waxes, and oil, at which they're reusable. 
Remember that the material to these wraps is organic, making them moldable, washable. And the same way you'd want, the wax wraps can last for 1 year. At this point, you can throw them into compost instead of landfill. 
Where to buy?
Buy Khala reusable sandwich bags from EarthHero or EcoRoots. Other wraps of the same kind can be found on Amazon stores.
4. LoveForEarth Gallon Zipper Bag
Perfect for storing veggies and fruits
It's washable
Made of eco-friendly ingredients
 Reusable and recyclable
This bag is ideal for storing smooth veggies and skinned fruits. Let your broccoli, spinach, and fruits stay fresh by putting them in this zipper bag before refrigerating them.
Made with Ristop nylon, you can be rest assured that this fine thread cloth is not only washable but also reusable. 
However, you must adhere to the care instructions given. Hand-wash it and leave it to dry. Other things to get from LoveForEarth include reusable napkins, mesh produce bags, storage, and travel bags, and Unpaper towels. 
Where to buy?
Get a gallon bag by LoveForEarth from Etsy.
5. Stainless steel sandwich boxes and containers
Perfect for storage needs
Plastic-free
Can be reused time and again
Extremely durable, hygienic, and highly recyclable material
Freezer and dishwasher safe
For storage, stainless steel boxes are way better than Ziploc bags. The box features no plastic components, meaning it is BPA-free. This makes it a healthy and good choice for toting little sandwiches for yourself and your kids.
Instead of purchasing plastic snack baggies, you can reuse these stainless steel containers. Alongside that, the material is durable to serve you from generation to generation.
And because this is a metal, it will act as an extra coolant to keep your food fresh for longer.
Where to buy?
Buy stainless steel box options from Earthhero. Check out Eartheasy for more other to-go stainless steel containers.
6. If You Care Sandwich bags
Great eco-friendly brand
Made from Scandinavian spruce
100% recyclable box
Chemical-free
Just like the name suggests, you should care for the environment. That's why this brand is introducing one of the most eco-friendly products for consumers. Their bags can replace Ziploc bags without hurting the planet.
Think of nature first! If You Care is trustworthy in promoting green living in the community. The sandwich is a good example. 
The snack bag is made of Scandinavian trees straight from the forest. Even better, it's 100 percent recyclable.
Where to buy?
You can shop for all 'If You care' products from amazon.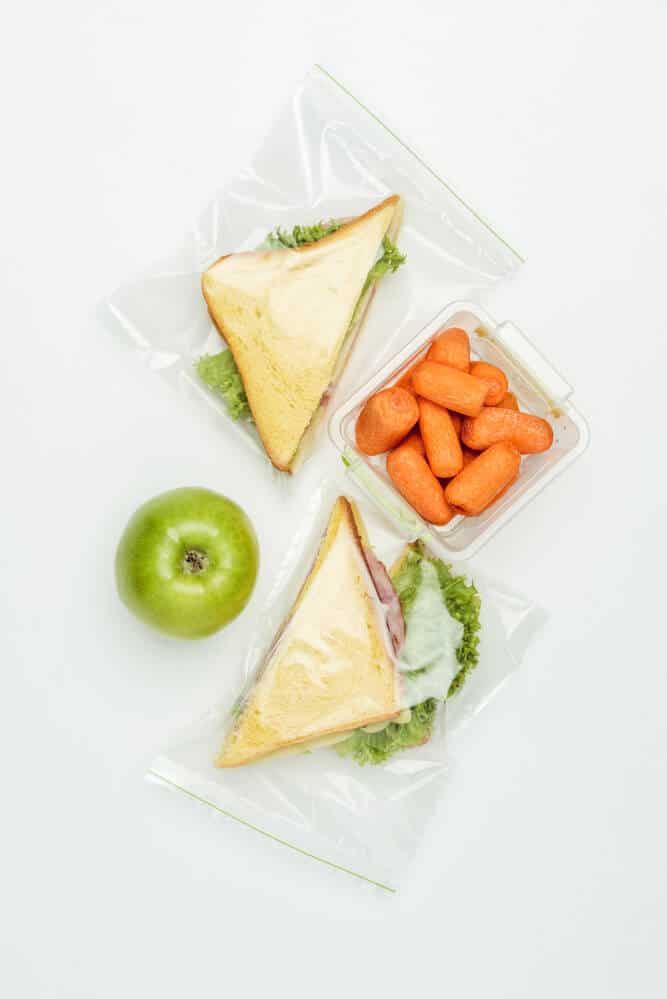 7. Pyrex Glass Containers and Dishes
Easy to use
The dishes are microwavable 
Reusable 
Freezer and oven-safe
Another eco-alternative to Ziploc bags is the Pyrex glass container. Most zero-waste kitchens do have these dishes in their cabinets and drawers. If this is so, then it's a transition to sustainable products.
Glass containers are perfect for plastic-free food storage. They're freezer-safe, oven-safe, and easy to clean for the next use. So, the dishes are reusable.
Pyrex dishes are more efficient than the competition. Whether it's leftover meals or lunch prep, it cements a healthy living environment.
Where to buy?
If you're looking to shop them, visit Amazon
8. Kids ZipTuck Reusable Snack Bags
BPA-free, PVC-free, and Phthalate-free bag
Adds cuteness
Reusable 
Available in different colors and sizes
This is a BPA-free reusable bag that's unique from others. While glass, metal, and cloth are popular materials for zero-waste living, plastic can outperform them if it's recyclable and reusable.
Kids ZipTuck Reusable Snack Bags, unlike other products, is made of PVC-free plastic that's approved. Use it to transform your territory instead of Ziploc bags. 
It will add cuteness as it is best for young ones. 
Where to buy?
Kids ZipTuck Reusable Snack Bags are available at EarthHero.
9. Lunchskins Sandwich Bags
Compostable and recyclable food-safe bag
Unbleached paper (Non-wax paper) – chlorine-free
Comes in 50-pack
Made from all-natural ingredients
If you're looking for an eco-alternative, Lunchskins Sandwich Bags can be a viable choice. The product is elegant and designed for many uses. You can keep your sandwiches safe.
Considering that these bags are compostable, they can be part of your zero-waste journey. Since the bags are made of non-wax paper (unbleached) they're chlorine-free. 
Upon deterioration, you can toss these bags to your compost as they break down quickly. 
Where to buy
Shop from here; Lunchskins collections 
10. Chicobag Snack Time Bag
Plastic and BPA-free
Recyclable
Reusable bags
Stain and water-resistant
Chicobag Snack Time Snack Bag is reportedly food-safe. This product will replace more than 1000 single-use bags before they deteriorate completely.
It's 100% fabric, which is made from recycled plastic bottles. Secure your food and snacks of various sizes with it. 
The bag is washable with a machine. And since it's stain and water-resistant, you'll find it easy to get the job done.
Where to buy?
If interested, buy it now from EarthHero. 
Do Ziploc Bags Decompose?
Yes, but it will take longer to decompose completely. Every product will biodegrade at one time. However, it depends on how long it will take to break down. 
Ziploc bag is made of plastic – it can take over 1000 years to decompose in a landfill. When disposed of, it absorbs toxins that leach into water and soil. In the long term, it can harm the environment.
Final Thoughts
Eco-conscious alternatives to Ziploc bags are plastic-free, reusable, and washable. Depending on your needs, you can get a viable option that will help you eliminate waste in your life.
Try any reusable substitutes for Ziploc bags in our list and let's know which one you prefer and love.