Nearly Everything we do creates Waste, and most of us are guilty of having trash bins in each room of the house, adding to the exponentially growing problem. 
To help in your zero-waste journey, we've created this all-inclusive guide to take you around each room and offer both sustainable alternatives for products, as well as a few additional hacks sprinkled throughout to decrease the entire household's carbon footprint. 
The real cherry on top is that we've added a few tips for when you venture outside the home. 
The best way to know how you can reduce your Waste is by knowing where you produce the most Waste.
So do a quick inventory – or a rescan of your recent trash and recyclables, and see what you may still need to find environmentally friendly substitutions for. 
There are many options when shopping sustainably – and you can select products that fit your specific needs versus a generic, mass-produced item, that may have been made both poorly and toxically created. 
Opt for more naturally sourced and produced items, things in recyclable, compostable, or biodegradable packaging, or even items with no packaging at all. 
There are multiple options available for most items that vary in "style" and in price and level of sustainability that fit any budget. 
It's essential to pick a product that will best suit your specific needs when shopping with the environment's well-being in mind. 
Food is the Way to the Heart, But the Kitchen is the Way to Low-Waste!
The Kitchen is the most wasteful area of many households, as our food is often unnecessarily suffocating in packaging that is often not disposed of properly. 
Here are a few things you should know about kitchen waste that will really grind your gears.
1.3 billion tons of food is wasted each year – this could feed 3 billion people.. Some perspective.. Approximately 1 billion people are presently starving. 
50% of annual food waste is estimated to be entirely made up of wasted produce
The big business ends up wasting large amounts of food because of ridiculously high appearance standards 
The first step to a zero-waste kitchen is to bring in as little Waste as possible. 
Here are a few tips to keep unwanted Waste out of your Kitchen – and your house! 
Have a List – avoid overspending and risk spoiling food by having a list based on previously planned out meals and your household's needs
Avoid Plastic Bags – use your produce bags or make your own instead of always grabbing the plastic disposable ones that the stores provide. If you have to use them, use as few as possible 
Avoid Plastic Altogether – opt for cardboard or glass packaged products
Buy in Bulk – Buying in bulk reduces the number of containers or wasteful packaging you'll require, and can even save money, too.
Buy Fresh N Local – take advantage of farmer's markets, local stands, and butchers to get fresh ingredients and meat without packaging to cut back on extensive industry pollution and the Waste that stems from such production, packaging, and shipping.
So you've done the basics. 
You've had a successful grocery haul and are ready to move on to 
Step two: some in-home cooking. 
Reuse Jars – wash and repurpose those jars that were unavoidable in your last grocery haul. Check out this awesome tip to remove sticky glue and unwanted labels without toxic chemicals. I've found you can even substitute dish soap for a lemon wedge or citrus peel.
Recycle – caps, jars, cans, foil, cardboard, etc., or anything that you cannot reuse can be recycled – recycle! 
PRO-TIP: Do some research to nearby recycling facilities for those harder to dispose of pieces, or check out TerraCycle to avoid throwing those items away
Veggie Scraps – Save, Save, Save! Veggie scraps can be used again before being thrown away; make your own stock to use in future recipes and avoid having to buy any! A secret way to make those homemade soups to the next level! Use carrot and pumpkin scraps to make some homemade treats for our paw-pals. 
PRO-TIP: Spoiling fruit? Get to Baking and make some banana bread!
PRO-TIP: If you or anyone in your household eats meat, the scraps, bones, shavings and organs can be saved and thrown into stocks as well
EXPERT-TIP: compost food scraps, eggshells, and other compostable goods to cut back on that harmful methane gas it would make if it were sealed up in the landfill, make sure you know what can and cannot be composted
Meal Prep – Set yourself up for success by planning your meals ahead of time. Knowing which foods may spoil first will help make sure you know what to use up first so you can avoid having to throw away any additional food waste.
PRO-TIP: You can even freeze many pre-prepped meals to have later and reduce any added spoilage. It saves money, Waste, and time!
Once you're stuffed to your fullest and stocked in the freezers, follow our post-meal tips for step three, and learn how to reduce Waste when you're done dining.
Leftovers – Sometimes, things are better the second time around. Reheat leftovers and make sure to use them up or freeze them before they go bad and be able to enjoy them later. 
Storage – using those saved jars from earlier is a great way to store leftovers without Plastic or the need for always existing Tupperware. 

Beeswax Wraps like these medium-sized ones- but you can get the best size for you!
Beeswax Bags like these are made from cotton, Canadian beeswax, jojoba oil, resin, and lots of love.
Reusable Sandwich Bags like these silicon ones! They can be replaced less frequently than beeswax options, which naturally biodegrade over time. Great for produce, sauces, soups, leftovers, pasta and more!
Clean-up – modern-day cooking is made easy-peasy with the help of a dishwasher to clean up after. Did you know using a dishwasher is less wasteful than washing the dishes by hand? 

Use a Dishwasher – save energy and water.
Avoid Wasteful Sponges 

Dishcloth like these unpaper towels from Marley's Monsters
Natural Sponges like these cost just the same as a regular 4 pack but are compostable. 
Bamboo Scrubbers can be composted when its time to get a fresh set, but they're fit for pots, pants, produce, regular dishes and bottles, making them last longer with designated uses

Dish Soap/Detergent Substitutions

Dr. Bronner's: you guessed it!
Clean Cult offers refillable dish soap, and a 10% off discount when you join their email list!
Dish Washing Block
Don't buy soap dishes, use miscellaneous metal jar lids and rubber bands to keep your soap dry and clean when not in use, for an easy DIY option you can probably make right now! 
Or check out this bamboo one for a bit of a more enticing aesthetic 
Use Colder Water – only when possible to reduce excess energy usage
Air-Dry hand-washed dishes or use a reusable, washable towel
Rub-A-Dub-Dub
We all want proper hygiene, and doing so often results in excess chemicals and plastic containers and other Waste. Every individual's routine will require their own specifically catered adjustments, but there are some things we all commonly use:
Shaving

Safety Razors even have replaceable blades that are much cheaper than the heavy plastic ones you usually get
Alternatives

Waxing – avoid razors and opt to get waxed instead! 
Laser Hair Removal – a more permanent but pricier alternative! 
Plucking – no waste whatsoever, just a lot of patience and tolerance for pain is required!

Shower
Numbers1&2

Compost Toilet – a "great" way to really make the most out of your Waste
Smart Toilets – they use the least amount of water-based on your bodily excretions 
Reusable Toilet Paper and Bidet – check out this reusable toilet paper that you wash after use. I'd probably need a bidet with mine – all the hardcore ZW's have them!
Who Gives a Crap? Is a sustainable toilet paper company that gives back 50% of its profits!
Other Bathroom Necessities
Additional Zero-Waste Hygiene Hacks
Reduce your carbon footprint further by adjusting your shower to be a little colder and simplifying your routine. 
Zero-Waste and Minimalism go hand in hand – It's easier to find alternatives for simpler lifestyles than complex and lengthy routines. 
Many zero-waste products are multi-use and not in a toxic way! 
PRO-TIP: Cut out cotton swabs and get ONE LAST SWAB – a reusable, washable swab that's perfect for medication application, make-up removal, and more. 
Or try these bamboo and organic cotton swabs that can be composted after each use. 
House so Clean it'll Shine like the Top of the Chrysler Building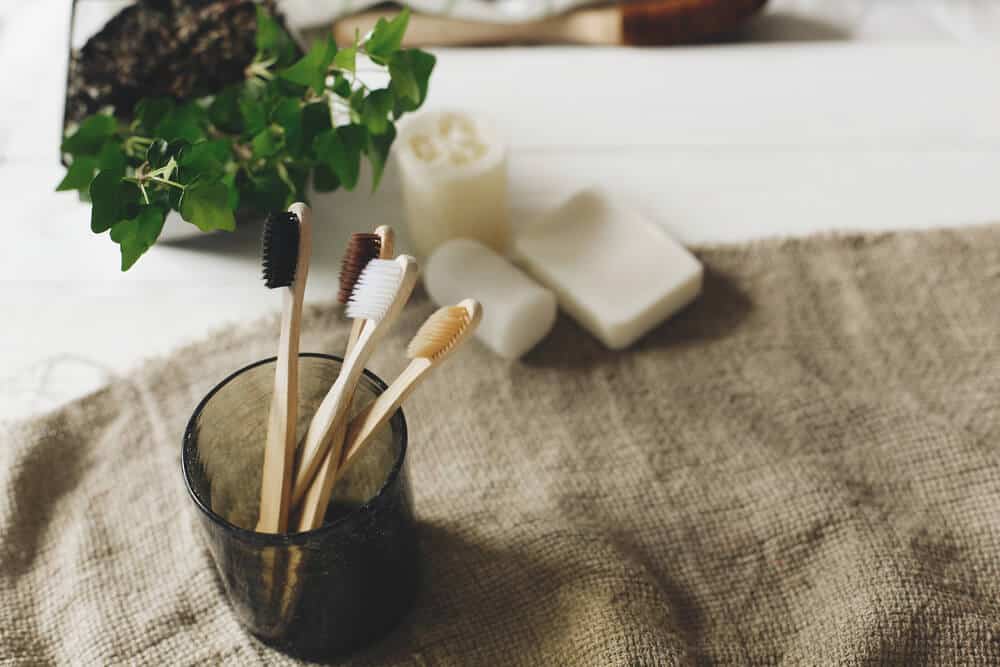 Living zero-waste doesn't mean you have to sacrifice your standard of cleanliness. 
There are so many natural, low waste options to make your living space squeaky clean. 
Take a look at your cleaning closet, see what some of your must haves are, and then find out where you can make your swaps.
Pro-tip: Check out Litterless for local zero-waste products and refill stores nearest you. 
Buy the low waste products you love just up the street in bulk, with either none or little to no packaging! 
It's also a great place to share ideas and get new tips to reduce your Waste. 
Tips for a Low-Waste Clean 
There are many steps you can take to help with a lower waste cleaning job and household chores. 
But for best results for the average consumer, use the following two together. 
Use Sustainable Products – these are not only made conscientiously, but they are better for the planet and you!
Dr. Bronner's – 18-in-one use castile soap, directions how to use it for all the things: laundry, dishes, pets, even yourself, is by far one of a zero-waster's greatest treasures. 
Hint: Dilution is key! It even comes in a container made from recycled materials and can be recycled again.
I reuse mine for future diluted concoctions to save on having to buy other bottles/containers! 
Though the upfront cost seems a little more expensive, a product like this with many uses can cut back on having to buy multiple products costing more money in the long run. I
t's non-toxic, too! 
Dryer Sheets – leave your laundry fresh and static-free but can quickly add up the trash you're sending to the landfill each week.
Wool Balls from Amazon are affordable and a great alternative!
This Vegan Option is even compostable. 
Skip 'em – they aren't necessary, and your clothes will still smell fresh and clean, thanks to your zero waste laundry detergent. Or add some essential oil to change up your scents with the seasons and your intentions!    
Laundry Detergent
    Laundry Sheets to reduce Waste and make your clothes clean and fresh, naturally!
    The seventh Generation sometimes comes in biodegradable and recyclable containers.
    DIY recipes like these are also great options and make SO MUCH for SO LITTLE.
    Sign up for this refillable laundry detergent pack program
Garbage Bags – not that you'll have much trash once you're further along on your journey, but inevitably you'll still be producing some waste. 
Zero Waste is, after all, just the goal, right?! 
Try these compostable ones!
Cleaning Wipes – skip the disposable one-time use wipes, and use some organic cotton reusable unpaper towels or DIY cleaning rags from old towels, jeans, and cotton t-shirts. 
Cleaning Products
    19 DIY All-natural Cleaning Products, enough said
Make Tiny Changes
Use coldest temperature water possible when you can
Hang-dry your clothes instead of using a dryer
Help The Earth and The Earth Helps Back
The earth supplies us with all of the resources we need to survive, and we need to maintain the Earth and keep it alive in return. 
We can give back many ways that we are immediately rewarded for by mother nature herself.
Compost – avoid food waste by letting nature run its course! Use your compost in your garden, or even donate your scraps to a local farm or communal compost. Plants thrive when you add your home-brewed compost.
Lawn Care – keep up with your yard work productively and sustainably. Alternate grass mowing patterns and avoid toxic pesticides while opting for more natural alternatives such as these expert options if your DIY concoctions aren't cutting it. Throw your yard trimmings and fallen foliage into your compost pile to really make Momma Earth happy! 
Garden – growing your food isn't just helping the planet, but it's rewarding too! You can have plenty of fresh veggies right in your own backyard. 
Share the wealth with neighbors and friends
Can and Jam what you can't eat – there will be plenty, and they make great gifts, too!
Save money – you won't need to spend nearly as much money on produc.
Have a blast – unite friends and family while you work together to have a successful garden
PRO-TIP: No Yard?? NO problem! Try one of these alternatives to growing your own food:
Many cities and communities, have begun community gardens to promote environmental sustainability practices, communal togetherness, and health and wellness. Contact your city officials or look on local facebook pages to see what options might be just around the corner!
Balconies/Porches – make use of any space you have, just pay attention to the levels of sunlight!
Indoor Garden

Hydroponics – a great way to grow indoor produce and plants with the help of water and science. Check out this advanced system! 
Check out this list of other, more affordable indoor garden kits 

Greenhouse – you can always buy one, but try one of these environmentally friendly options out for size instead. 

DIY – repurpose old windows and make a tremendous sustainable greenhouse. Windows can often be found locally, cheap, or even free! Not only is it affordable and environmentally friendly, but it's a cute aesthetic too!
Rent – try and rent space in a local greenhouse or environmental center if you don't have the space of your own
Zero Waste Must-Haves
Not all your efforts have to remain in the home, but they indeed start there. 
Proper preparation can help cut back on unwanted Waste! 
Here's a personal guide to where you may need some of my favorite and most used zero-waste must-haves.
| | | | |
| --- | --- | --- | --- |
| | In The Workplace | At the School Yard | Out N About |
| Reusable Water Bottle  | YES | YES | YES |
| Reusable Coffee Mug: Hot or Iced-Tumbler | YES | YES | YES |
| LunchBox / Silverware | YES | YES | MAYBE |
| Reusable Bag | YES | YES | YES |
| Reusable Straw | YES | YES | YES |
| Reusable Sandwich Bag | YES | YES | MAYBE |
At first, I struggled to keep up with these habits and remember my sustainable items. 
It was so easy to fall into old, convenient, dangerous habits and think "it's just one bag.." so I've included a few ways to help you get the most use out of some of your sustainable items! 
    – keep reusable bags in the passenger seat of car, or even one in your purse 
    – say no to samples, those mini soaps, perfume, and eye-cream packets add up quick 
    – keep a reusable straw in your car, and your bag! 
PRO-TIP: keep 2 straws on hand for people you're with while on the move!
There are so many sustainable options available, and more and more businesses and corporations are making strides to incorporate more ethical and environmentally conscious practices. 
Find what habits you can implement today while you wait for your new products to arrive! 
Reminder, use up the Ziplocs, foil, and other things you have first before replacing them. 
Otherwise, it's two steps forward and one step back. 
So now get to work showing off your new gear and sharing all your new found low-waste knowledge! 
What Are your must-have zero waste items that we didn't mention? Let us know in the comments.