What comes to your mind when you see a balloon? A party, right? 
Balloons are obvious decorative options for many kid's parties. You can set them on lawn gates to show where there's a party. 
Flying balloons at most memorial ceremonies tend to evoke a sense of respect for the departed souls.
Seeing them gracefully ascend into the blue sky feels fun and beautiful without any doubts. 
While we enjoy using balloons, they are not ideal for the wellness of the environment or wildlife. 
Thankfully, there exist zero waste alternatives to balloons which you can try.
What Are Balloons Made Of?
Balloons exist with different materials. Most of them comprise mostly latex or mylar.
Latex. It's often a natural material used to make classic latex balloons.
Mylar. This is a plastic material with a thin layer of aluminum coverage to make a balloon shiny. These materials have plenty of helium.
Facts About Balloons
Using balloons to decorate spaces for a party contributes to litter creation. 
Even when we use them indoors, they'll soon deflate and find their way into your dustbin. 
When they get in a landfill –  it's bad news.
Otherwise, they can get into a river or sea causing pollution, interfering with marine life. 
Besides, the balloons can pollute the environment, affecting humans, plants, animals, and other living organisms it supports.
But why? Well, latex or mylar balloons are non-biodegradable, meaning that they can last for many years before decomposing.
10 Zero Waste Alternatives Balloons
Looking to have a colorful and fun atmosphere for your party? Or you want to go eco? 
Here are our best 10 zero-waste alternatives to balloons you can buy from different online shops. 
But, you'll find most of them pretty easy to make even with your children.
1. Bunting Flags
Main features
Add instant color
Reusable
Easy and fast to hung up and remove
Suits all kinds of parties
Modifiable
You can make fabric or paper bunting flags as one of the zero waste alternatives to balloons. 
This will often depend on the nature of use. 
Whichever the case, they'll always add exciting colors to your special occasions.
They're reusable. 
This means that they'll relieve you extra costs or efforts of making new ones for another party. 
Plus, you will love these balloons for their incredible versatility.
In short, they suit all your parties in amazing ways.
Buntings allow you to be super creative. 
So, you can sew or write messages on them as you please to suit your needs. 
Another good thing about these alternatives is that they are easy to hang and put away.
Why choose it
Bunting flags allows you to get as creative as possible. 
They are the best options for adding vibrant color and appearance to your party or special events.
Easy to make and use
Where to buy online
You can buy bunting flags made of fabric, hessian, or elegant vintage lace from Etsy.
2. Banners
Main Features
Versatile
Reusable
Available in many shapes, designs, and colors
Banners are among the best options for use as decorations at graduation ceremonies, birthdays, parties, and many other events. 
You can use them to add color and style to your walls or even create beautiful backdrops rather than using balloons.
They're also incredibly versatile, meaning that you can customize and personalize them to suit any event. 
Besides that, you can use your banners for several other parties. This makes them quite cost and effort saving.
Banners come in multiple sizes, shapes, designs, and colors. For this reason, you can easily find one that meets your needs.
Why choose it
Banners are a great way to customize and personalize your parties with perfection.
They come in a wide range of sizes, shapes, styles, and colors, you're sure to find the perfect match for your needs.
Where to buy online
Buy your specialized banners for birthday decoration from Etsy. You can find it made of materials like Hessian, acrylic paint, burlap, or jute twine string.
3. Garlands or Paper Chains
Main Features
Easy to make
Blends perfectly with a color scheme
Storable and Reusable
Do you wish to bring back all the amazing childhood memories as you set for a special party or event? 
Well, garlands or paper chains should be your zero waste alternative to balloons. 
You'll find them quite easy to make from the comfort of your home. 
You can even use scrap paper or newspaper and create something more elegant and eco-friendly than the balloons.
Since they're customizable, paper chains give you the chance to add and match a suitable color scheme to suit your room. 
If you want them to last longer and use them for subsequent parties, use a cardboard box to secure them.
Why choose it
Paper chains are super easy to make. 
They add an excellent mix of colors to your room.
They're storable; hence you can use them for another party.
Where to buy online
I understand that you may not have ample time to make paper chains. 
Instead, you could buy some beautiful hanging paper chains for your party from Etsy.
4. Streamers
Main Features
Incredibly interactive
Versatile
Effortless to make
Compostable
Streamers are yet another zero waste alternative to balloons. 
You'll find them incredibly interactive than any other kind of decorations. 
They offer you the best way to add bright colors to your party and strike a sense of excitement and joy.
You can use them as decorations for your ceremonies and parties. 
Or, you can attach a streamer to a stick for the children to play with by running around with them with delight. 
In other words, it serves best as an exercise tool for your kids at home. 
Thanks to their versatile design.
These decorations are also very effortless to make with readily available materials. More importantly, streamers are compostable. 
This means that they are biodegradable and will not cause pollution to the environment as with balloons.
Why choose it
They are compostable; hence they won't pollute the environment.
Incredibly decorative and appealing to the eye.
Where to buy online
Do you wish to purchase streamers for your party or ceremony decorations? Well, check out Etsy or Amazon to find yourself exciting and beautiful streamers.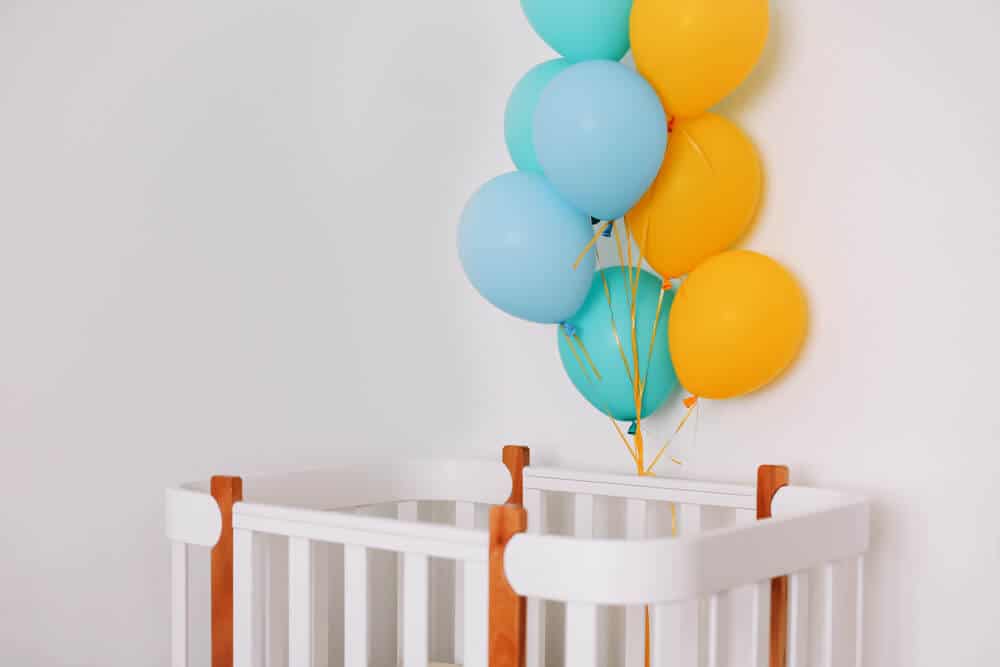 5. Paper Flowers
Main Features
Super-versatile
Very decorative
Degradable
Flowers are often attractive. 
As for paper flowers, you'll create a lovely atmosphere for your party. 
Everyone will feel excited and admire your party's setting and decorations. 
You can use them as table decorations or hang them on the walls or ceiling.
Making paper flowers may not be an easy task. 
And depending on the design and the number you desire to make, these zero waste alternatives to balloons can take you a little longer.
Why choose it
These alternatives are decorative and pleasing.
Eco-friendly since they use recycled paper.
Where to buy 
Buy your paper flowers for your next party at Etsy.
6. Bubbles
Main Features
Fun and exciting
Litter-free
Easy to make
Nothing feels exciting and fun than blowing balloons. 
It's something many children love doing as they play with bubble solutions. 
They are increasingly becoming a common zero waste alternative to helium balloons for a good reason.
That is, bubbles tend to leave residue in very small amounts. 
When the bubble pops, nothing remains in the environment. Therefore, you can use bubbles with utmost freedom to make your party and special events colorful.
Do you want to make bubbles? Well, get yourself a suitable eco-friendly bubble solution, water, and glycerin or honey if possible. 
Then mix the components the morning or night before the party and get blowing.
Why choose it
Bubbles leave less residue on the environment. 
The liquid for creating the solution is also eco-friendly.
They are very decorative.
Where to buy
If you find it hard and time-consuming to make bubbles, you can buy the ready-made ones from Etsy. 
7. Pompoms
Main Features
Biodegradable
Offers different mounts
Very decorative
Ultra-easy to make
Pompoms are a beautiful decorative zero waste alternative to balloons you can try out. 
They add a striking splash of amazing colors to your room and events.
They are exceptionally easy and fast to design with readily available materials like tissue paper or fabric pompoms. 
And you can mount or attach them at the front of your gate rather than balloons to enable visitors to find your party with relative ease.
Why choose it
Pompoms are amazingly decorative and guarantee to add a splash of color to your room.
They are also biodegradable and recyclable, meaning that they won't pollute the environment.
Making them is pretty easy and time-saving.
Where to buy
Other than making pompoms by yourself, you can purchase these already made eco-friendly alternatives to balloons from Etsy.
8. Pinwheels
Main Features
Elegant effects and appearance
Easy to make
Degradable
Pinwheels are remarkably fun and stunning than a balloon. 
They boast a fanned concertina effect that grabs attention from far. 
Therefore, they can help show your visitors where the party is while offering an exciting party atmosphere.
These options are also easy and fast to make. 
You can watch tutorials online or read guides on websites and learn how to make beautiful pinwheels with ease. 
All you need is a few paper-based materials like colored paper and paper straws.
Since pinwheels mainly constitute papers, you'll find them degradable. 
Therefore, they exist as one of the best zero waste alternatives to balloons.
Why Choose it
Pinwheels are easy to make using few paper materials.
Their appearance is incredible and there's no doubt that they'll have a striking effect on your party.
You'll find them pretty eco-friendly.
Where to buy
While you can make pinwheels with ultimate ease, you can buy them from party shops or online stores like Etsy.
9. Kites
Main Features
Exciting and decorative
Easy to make
Ideal for outdoor parties
Kites offer you a fun and exciting way to add some decorations to your outdoors without causing any pollution. 
They can add beauty to your party sites. 
Let your visitors compete friendly to see who can fly their kite the highest.
Here, you'll expect to see some chaos while the party guests get their kite strings tangled. 
They also help show your party guests where the party is. Plus, making them isn't a big deal. You can get some kids to help you with the job.
Why choose it
Kites are very interactive and fun decorative yet eco-friendly options to balloons.
They are easy and fast to make using recycled paper and don't create pollution.
Where to buy
You can make a recycled paper kite. Alternatively, you can buy from Etsy to save yourself some time and effort.
10. Paper Lanterns
Main Features
Bright and colorful
Available in many sizes and colors
Reusable
Paper lanterns are another zero waste alternative to balloons. 
You'll find them brighter and more colorful, adding elegance to your celebration.
They exist in all kinds of sizes and colors, meaning that everyone can find what suits their needs best. And, you can reuse your paper lanterns many times.
Why choose it
Paper lanterns are colorful and you can design them in different sizes.
You can suspend or arrange them with ease.
Where to buy
Paper lanterns are readily available online at Etsy.
Why Should Balloon Releases Be Banned?
Ideally, balloon releases need banning. While they're great options for party decorations, they are pretty bad. Here's why we should ban balloon releases.
Balloon releases are a form of littering to the environment. Even though the balloons fly high in the sky, they'll at some point find their way back to the surface of the earth. When in plenty, released balloons pollute the environment.
Balloons tend to look appealing and prey to wildlife including sea turtles. When they eat the balloons, their internal pathways for food easily block, leading to hunger and death.
The string used can also wrap birds, dolphins, and other marine animals, restricting their movement. Besides, the string may cut into their skin resulting in severe infections.
Balloons have helium storage to enable them to float in the air. Yet, there's still a limited supply of helium, a  crucial gas used in healthcare, space explorations, and many other areas. So, it is essential to stop using balloons at all costs.
Frequently Asked Questions
Are there any eco-friendly balloons?
Yes, there are biodegradable balloons. However, most of them still use natural latex. This makes them take many years to decompose. 
How long do biodegradable balloons take to decompose?
Typically, biodegradable balloons can take between 6 months and 4 years to decompose. By then, they may cause severe harm or even the death of wildlife.
What impact do balloons have on the environment?
Balloon releases leave the environment with ugly litter. They can cause soil pollution, degrading land and affecting the quality of environmental life. Or water pollution and this impacts the environment alongside its marine living organisms.
Is there a balloon helium alternative?
Yes. Hydrogen gas is an ideal alternative for helium. Many prefer it in cases where the flammability nature of hydrogen isn't a major concern. It's light and can make balloons if that's the only option.
Can you let off balloons?
Balloon releases are a great way to party or celebrate. However, the impacts of balloon releases make me let go of balloons. They create litter in the environment and can harm and kill wildlife. Besides, they contribute to the wasteful usage of helium.
Conclusion
There are many zero waste alternatives to balloons to consider even if they may not be more decorative. 
But, you'll find some of them a lot of fun too and will help create an exciting atmosphere at your party.
If we avoid balloon releases, we could help protect the environment and wildlife. 
That's a big win for us and the planet at large. 
You can buy or make the above decorative options with ease using readily available materials. Recycle and reuse them to go eco-friendly.