From the supermarket to the doctor's, you're advised to watch what you eat everywhere. Healthy eating usually involves cooking, so it's ideal for getting the best kitchen cookware.
You should know that several toxins are used in making this cookware, and thus you need to pay attention to what you're cooking your food with by investing in the best non-toxic cookware sets available.
Since Teflon was called out for perfluorooctanoic acid, PFOA, polytetrafluoroethylene, PTFE, many healthy cookware brands now focus on non-toxic sets.
Do you know what's better than non-stick cookware? Well, non-toxic and non-stick cookware.
In this buying guide, we've put together our favorite cookware options to aid your shopping. Let's dig in!
Things to look for when choosing the Right Cookware
The right non-stick cookware brands for your kitchen needs to make non-toxic products from materials like carbon steel, cast iron, ceramic, tempered glass, porcelain enamel, or nickel-free stainless steel.  
Ensure your aluminum cookware is coated, as it may cause certain immune disorders. Please don't use them with acidic foods to avoid ruining both the cookware and food.
If your stainless steel cookware contains more than 15% chromium, do not purchase. 
When buying cookware with non-stick coating, you need to make sure the material is indicated, e.g., cast iron.
That way, you can verify its safety from chemicals. Always avoid cookware options made of copper coatings; they aren't harmful on their own, but cooking acidic foods with them can cause their oxidization, leading to leaching of toxins.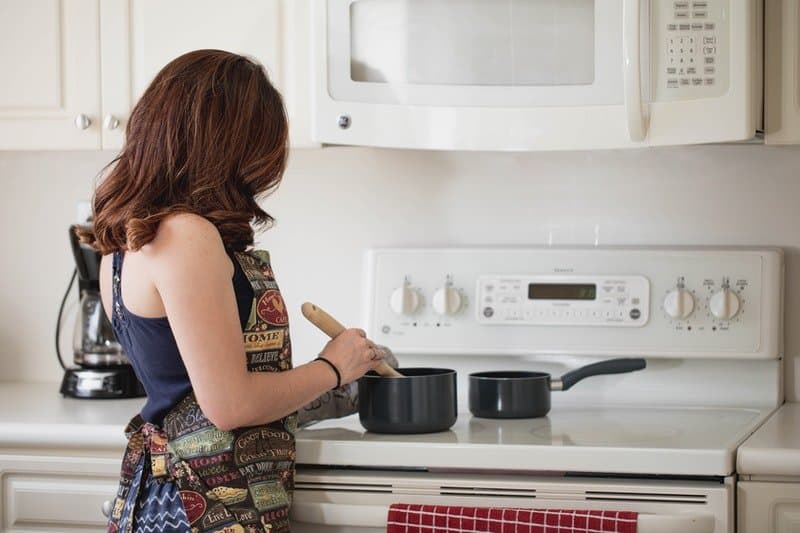 Advantages of New Cookware
Most traditional non-stick cookware brands were made of heavy metals, uncoated aluminum, copper, and Teflon in making non-stick pans.
Yet, despite their advantages, such as easy cleaning and cooking, they have been associated with harmful chemicals that make them dangerous.
PTFE non-stick coatings turn into toxic PFOA at high heat and then get released in the Teflon coated pans, at temperatures over 572° F.
This has since been addressed in 2013 when it was reported to cause cancer.
Newer cookware, which we love, are made of metals like aluminum, porcelain enamel, and stainless steel, coated with other materials, thus preventing leaching of toxic chemicals such as PTFE and PFOA, like in Teflon.
Also, these further improvements ensure that the non-stick coating property is well retained.
They are also built-in with better technology to ensure even distribution of heat for cooking and conduction over many stovetops. The sturdier materials make these products highly durable too.
Ceramic coated pan is non-stick, environmentally friendly, works at low temperatures, scratch-resistant, and easy to clean.
Cast iron cookware and pans are versatile and durable, with high retention.
A famous example of a cast iron set is Le Creuset, which is very expensive as the cast iron is of the highest grade.
Stainless steel is durable, readily available, and quite affordable.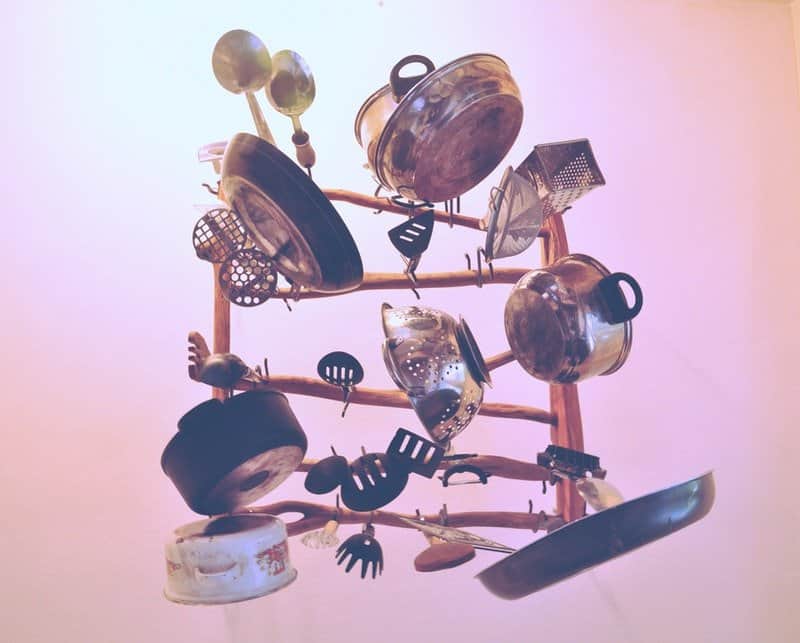 What's the best way to use non-toxic cookware?
They mainly come with instruction manuals which should be followed.
There are a lot of cookware brands with cookware options that are safe, even though, for some, it's recommended that you wash by hand using a non-abrasive sponge.
They are also great for use up to specific temperatures. Ensure you don't abuse them by allowing these pans to reach higher temperatures.
Always allow cooling before washing with water to prevent warping. Generally, you want to avoid using metal utensils, except it's stated to be safe, like in stainless-steel cookware.
You may place a magnet below your non-toxic cookware to know if it works for induction tops. If it holds, then yes. Stainless steel is non-toxic and suitable for any stovetop. Cast iron such as Le Creuset can also be used on all tops.
Well, now that we've gotten these questions and tips out of the way, it's time to dive into the best non-toxic cookware sets we've reviewed. 
Best Non-Toxic Cookware Sets – Reviews
If ecologically friendly and aesthetically pleasing stainless-steel products are of interest to you, then you might be in for a treat with this 14-piece nickel-free Homi Chef.
This includes varying sizes of saucepans, stockpot, fry pan, and five cooking utensils – made to meet your cooking needs, including frying, searing, simmering and braising.
Its see-through tempered glass allows moisture circulation. The 4mm high 3-ply construction in the base makes for fast and good conduction, plus energy saving.
The rims are flared and dripless. Stainless steel is compatible with all stovetops, dishwasher safe, and can cook without lids in the oven for up to 400°F. This product has a 6-year warranty.
Pros
The material quality is sleek and top-notch. 
It's both dishwater safe, and oven safe up to 400°F. 
The see-through tempered glass allows for the circulation of heat while letting you watch your food. 
It is very versatile and can be used on any stovetop.  
A 1-month full refund trial period, and 6-year warranty, assures you of its durability.
Cons
This unit doesn't use a coat but employs heat surround technology & 3-Ply base to achieve non-stick, hence requires special attention. 
The inner bottom starts to chip with use and might discolor, making it harder to clean.
You'll love this award-winning non-toxic, non-stick black set, which is 3-layered, free of PFOA and PTFE, and offers food release effortlessly.
The good grips are owed to the cast stainless steel handle wrapped in heat-resistant silicone, making it comfortable and non-slip. It's ideal for many types of stovetops, except for induction.
This high-quality 10-piece set you want includes various fry pans, saucepans, casseroles, and stockpot sizes. The hand-anodized aluminum design keeps the pan scratch-resistant and ensures even cooking.
It is safe owing to the silicone-metal construction for up to 390°F. It's easy to clean, durable, and sturdy.
Pros
It is sturdy, and non-stick due to its 3-layer German design. 
This set is easy to clean. 
It's comfortable to hold, as heat-resistant silicone which makes it non-slip. 
There's even cooking due to heat distribution.
Cons
The coating comes off very quickly, allowing food to stick. 
Some of the pans come pre-damaged. Check on receipt of your order.
If you're looking for the best small pot and pan products, you'll love this 4-piece turquoise GreenLife set, which will pop up on your radar.
The Thermolon coating makes it non stick cookware, and you need not bother about toxic fumes even with accidental overheating.
The aluminum design keeps it sturdy and durable and ensures fast and even cooking.
The glass cookware lid is tight-fitting to seal in moisture and nutrients, and the rims are drip-free. It's designed for use on many stovetops, except induction.
This non-stick pan is safe for use in dishwashers, excellent for use up to 350°F. Use on low to medium heat, with only a little cooking oil.
Using nylon/wooden utensils are recommended. It's portable. For hand washing, use a non-abrasive sponge.
Pros
It's pretty light and very easy to use. 
Quite affordable. 
Fast and even distribution of heat, thus cooking your meals readily and nicely. 
Ceramic is very healthy. 
Cons
It's only oven safe up to 350°F. 
Once they lose their sticking ability, they become almost impossible to clean. 
This gray Valencia Pro set is made of ceramic and one of our favorite non-stick cookware. This includes varying sizes of fry pans, saucepans, skillet, and casserole.
The coating used is free of chemicals like PTFE, PFAS, PFOA, and heavy metals like lead and cadmium.
To keep this cookware non-toxic, it is recommended that you wash this ceramic by hand. It may be used up to 600°F, with the glass cookware lids safe up to 425°F.
The ceramic coating, which you'll love, is safe for metal utensil usage and allows even heating and easy cleanup.
The armored body design makes for more durability, firm grip, and scratch resistance.
Pros
It's easy to clean and use. 
It's highly scratch-resistant due to the armored body design. 
There are no toxic fumes, even at high temperatures.
It's oven-safe up to 600°F. 
The coating is metal utensil safe. 
Cons
The non-stick ability wanes with time. 
Bottoms discolor after some use
In need of the bluest 14-piece brands free of heavy metals? Then you might want to start looking here. This option is highly compatible with dishwater, thus super easy to clean.
It's excellent for use in the oven up to 350°F, therefore ideal for searing. The set includes varying sizes of fry pans, saucepan, Dutch oven, and four nylon tools.
Its base allows for proper distribution of heat, and the interior is a ceramic non-stick one, making it stain and scratch-resistant.
It's recyclable and free of PTFE, PFOA, and cadmium. Its light and built-in Thermo-Spot technology indicate when the pan has reached the right temperature to begin cooking. It can cook up to 570°F.
Pros
The thermo-spot technology indicator alerts you when the pan is hot enough to start cooking. 
It's recyclable. 
It's free of PTFE, PFOA, and cadmium. 
It's very portable. 
Cons
It doesn't cover induction stovetops. 
The handles aren't the tightest, and it loses its non-stick ability after some use. 
Want a healthy cast iron cookware that lasts long? Then, the Lodge Cast Iron pans in a 4-piece set is for you. Once it is properly taken care of, this cast iron cookware can last for decades.
It can be used to sauté, simmer, sear, braise, boil, bake, roast or fry; be it at home, in the oven, or on the grill, this cookware is unmatched in even heating and retention.
This cast-iron brand is known for a non-toxic set consisting of a 10.5-inch Griddle, 10.25-Inch Skillet, 10.25-inch Grill Pan, 6-inch Red Silicone Pot Holder, Red Silicone Handle Mitt, Red Pan Scraper, and Black Grill Pan Scraper.
After use, hand-wash it and dry it thoroughly. Do not use metal utensils that will scratch the pans.
Pros
It can last a lifetime. 
Due to the slightly raised edges, oil, batter, and other ingredients are neatly contained. Use soap to wash.
This cast iron cookware is durable and versatile. 
Its loop handles make it easy to move from stovetop to oven.
Cast iron is unmatched when it comes to proper induction.
Cons
It can be used on many tops except that of a microwave.
The brand packaging isn't good enough. 
This brand uses the ceramic coating non-stick technology, unlike other non-stick cookware options, and it does not peel off easily.
This 12-piece hard-anodized aluminum cookware set includes an 8-inch frying pan, a 10-inch frying pan, a 1.5-quart saucepan, a 2.5-quart saucepan, a 10-inch/3-quart "everyday" pan, a 6-quart Dutch oven, and a 2.5-quart steamer insert.
This ceramic coated set is designed to conduct heat effectively and does not require much energy while cooking.
It is eco-friendly as many of the materials used in producing it are recycled, and it comes with a lifetime warranty.
However, it is not dishwasher friendly like most others on this list, so wash simply with a soft sponge in warm soapy water and dry thoroughly.
It can go in the oven for up to 400°F, but one should be careful with the handles as they get hot while cooking or after some time in the oven.
Pros
It is eco-friendly and uses eco-friendly materials.
It has a lifetime warranty for material and workmanship defects.
This ceramic cookware can be used on all cooktops. 
It is safe for use in the oven, at least 400°F.
It has everything needed to make a wide variety of dishes.
Cons
Make sure to wash by hand, as it's unsafe in dishwashers.
The handles get hot while cooking. 
Frequently Asked Questions
Is stainless steel cookware safe?
Yes, it is. It's also the favorite kitchen choice for people who love to cook with a lot of heat as it is very resistant.
However, the downside is that the coatings on stainless steel pots and pans are less non-stick than others.
How do I take care of my non-toxic, non-stick cookware?
Avoid using metal utensils on these products. As much as possible, one should stick to wooden utensils.
Get a soft sponge to avoid scratching the pans and pots while washing. Lastly, read the manuals for the cookware to know the temperatures it can safely handle.
What is the safest cookware for your health?
Those like Aluminum, Carbon steel, Cast iron pans, and Ceramic cookware make up the safest ones because of their non-toxicity.
Besides being non-toxic, they may help your meal retain its nutrients.
Are Ceramic Pots and Pans Toxic?
No. Indeed, ceramic cookware is one of the healthiest cookware options to consider when choosing non-stick, non-toxic cookware.
Unlike many materials, it does not break down at increased temperature levels and distributes heat evenly.
It can be heated as high as 400°F without the risk of releasing toxic fumes into food.
What cookware materials should I avoid?
Avoid any pan made of toxic and harmful materials to health, like those made with Teflon as they leach PTFE and a heavy metal coating as they contain toxins that can be released into the food while cooking.
Are consumers subject to any health risks from cookware?
Based on EU law, any material which may have contact with food should be made in such a way that there's no transfer of chemicals to the food in quantities unsuitable for health.
In fact, before the 1980s, aluminum was touted as a possible causal factor in Alzheimer's. This led to serious health concerns about being exposed to aluminum through sources such as cookware.
Since then, scientific studies have not uncovered any link between aluminum and Alzheimer s disease.
However, using cookware manufactured with a significant amount of aluminum may increase the risk of delivering a child with congenital disabilities.
Conclusion
Based on our reviews, the non-toxic cookware for food is the 14-piece Homi Chef set, which is compatible with all stovetops.
It comes with a 6-year warranty, which is an excellent deal when it comes to durability.
Our favorite high-quality set of non-toxic pots and pans is designed to meet all your cooking needs.
Unlike the other options, the good news is that it owes its non-stick ability to heat distribution, so pay attention to its usage instructions. It can also cook for up to 400°F.
It meets the criteria of things you'll love in the right ware: easy to cook with, clean, relatively inexpensive, and made of stainless steel, thus one of the best and safest cookware.
This set is built-in with technology to conduct heat better and save energy.
The other brands and products on this list are great, too, so put this information to use as you go shopping. Also, leave a reply on your favorite kitchen brand.